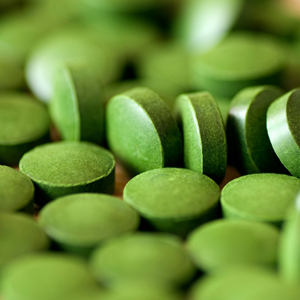 Chlorella Tablets

The name Chlorella derives from two Latin words meaning 'leaf' (green) and 'small', referring to the unusually high content of chlorophyll (the highest of any known plant) which gives Chlorella its characteristic deep emerald-green color. This particular fresh-water, single celled microscopic plant contains a host of health building nutrients. In addition to chlorophyll it contains vitamins, minerals, dietary fiber, nucleic acids, amino acids, enzymes, CGF (Chlorella Growth Factor) and other substances. Under the favorable growth conditions of strong sunlight, pure water and clean air, Chlorella multiplies at an incredible rate, the complete reproduction cycle taking less than 24 hours.
Both our Chlorella and our spirulina are very particular strains of algae. Our Chlorella is a strain of algae known as Chlorella Pyrensoida. From a single pure source, this algae has been reproduced for thousands of generations. This insures the integrity of the strain's purity will stay intact without degenerating. Many other producers of Chlorella and Spirulina do not pay close enough attention to their strains and experience "drift" in the purity of their algae. This problem is very much overlooked by many algae producers worldwide. Our Chlorella assures the absolute strain purity of our algae.
Ingredients: 100% organic, pesticide free chlorella. Produced in Taiwan by The Taiwan Chlorella Manufacturing Co., Ltd., the world's largest producer of Chlorella Pyrenoidosa.
Shelf Life: 8+ Years
* These statements have not been evaluated by the FDA. This product is not intended to diagnose, treat, cure or prevent any disease.
Click here to learn more about how we can our products.
Featured Products
Chia Seeds »
Golden Flax Seeds »
Himalayan Salt »
Spirulina Tablets »
Chlorella Tablets »
Rice Bran Solubles with Tocotrienals »
Palm Sugar »
Wheat Fettuccine »
Wheat Spirali »
Wheat Penne »
Quinoa »
Spelt »
Brown Rice »
Organic Chia Seeds »
Kelp Granules »
Boku Super Food »
Boku Super Protein »